[ad_1]

Google Docs is a fantastic collaboration tool. It allows users to access and edit documents directly from their browser, without needing to download and install any third-party software. As a result, users no longer need to email Word documents back and forth or send them as attachments in an email.
They can just share the document link with others, who can access and edit it directly from their browser. Embedding Google Docs in WordPress is an easy task if you know how to do it.
So what does this mean for WordPress users? Well, it means you can embed Google Docs in a blog post or page on your site without needing to find another location for it. This article explains how to do that – along with some other useful tips on working with Google Docs and WordPress together.
Manually Adding HTML to Embed Google Docs in WordPress
If you're comfortable working with code, then you can manually add the HTML needed to embed your Google Doc.
Step 1: Open up the document that you want to embed and click "File."
Step 2: From the drop-down menu, select Share > Publish to web.

Step 3: A pop-up window will appear; in the "Embed" tab, click "Publish" then copy the code provided.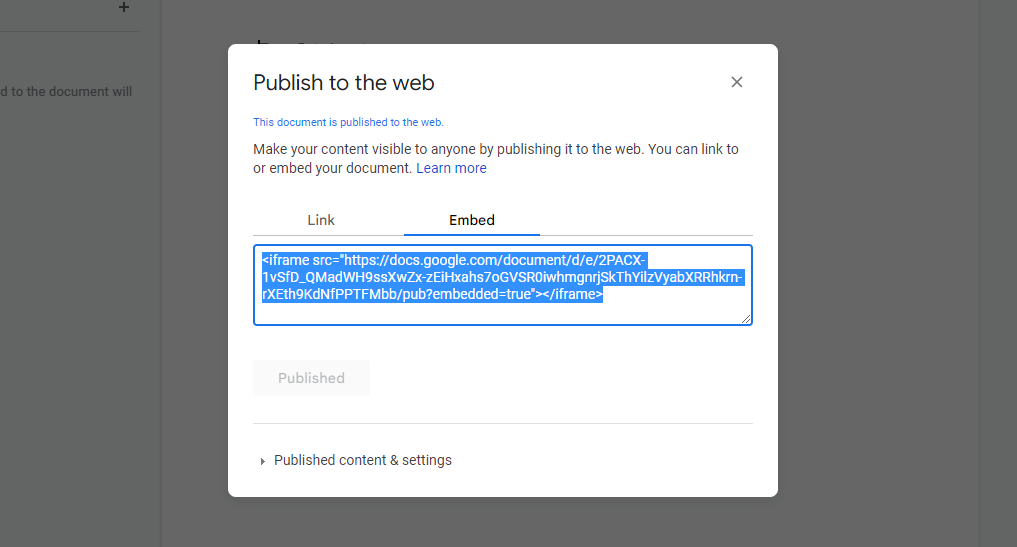 Step 4: Next, open up your WordPress post or page editor. In the text editor field, switch from "Visual" to "Text."
Step 5: Paste your copied code where you want your embedded document to appear on your page or post.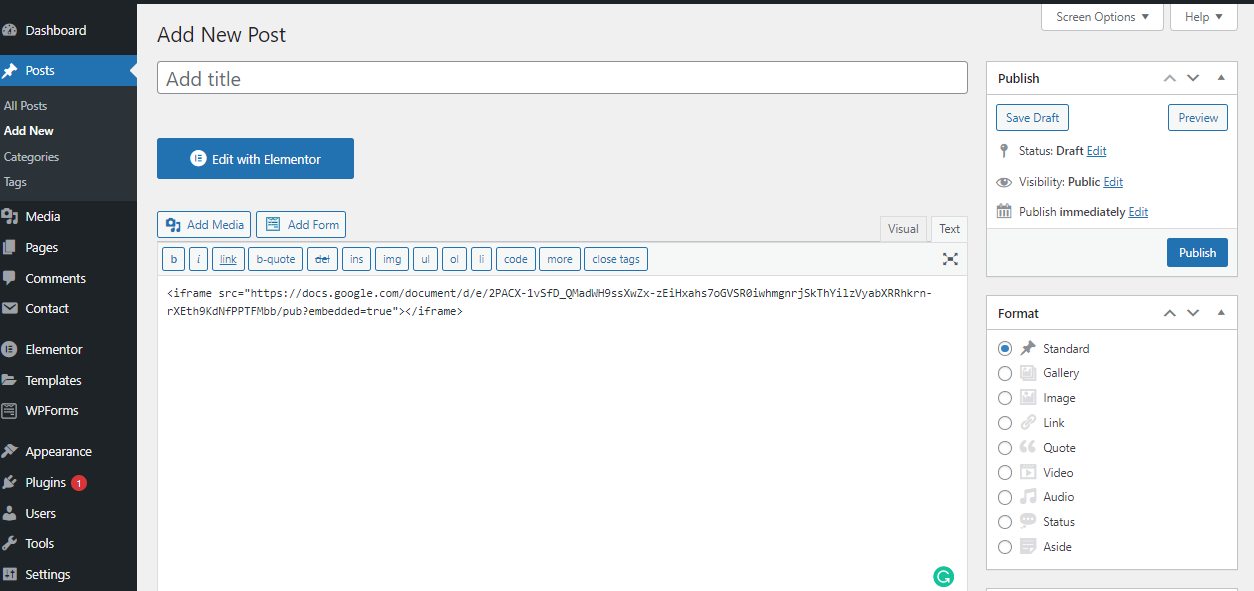 Step 6: Hit "Publish" and view your post to see the embedded Google Doc in action.
Using a Plugin to Embed Google Docs in WordPress
If working with code isn't your thing, then you can take advantage of one of the many plugins available to help you embed your Google Doc. We recommend using EmbedPress. This plugin is free and relatively easy to use.
Step 1: In your WordPress dashboard, look at the left sidebar and click Plugins > Add New.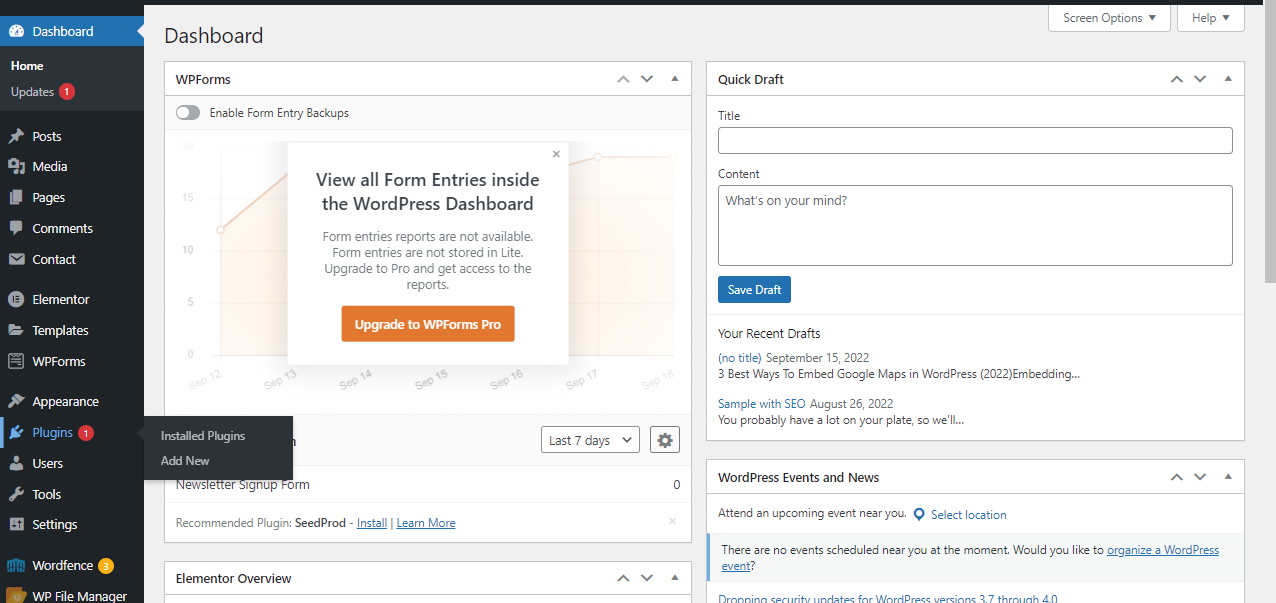 Step 2: Click "Add New". On the search bar, search EmbedPress. Click "Install", then "Activate".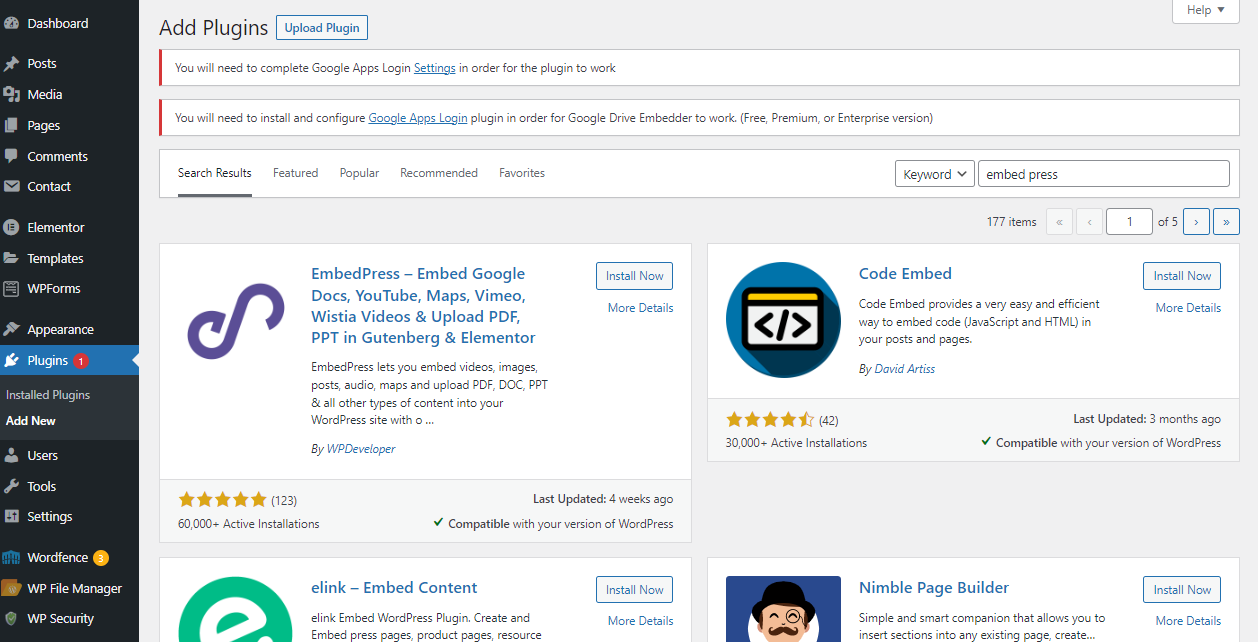 Step 3: Go to the Google Doc that you want to embed to WordPress and click Share. Make sure you set the access to "Anyone with the link" and "Editor". Click Copy Link > Done.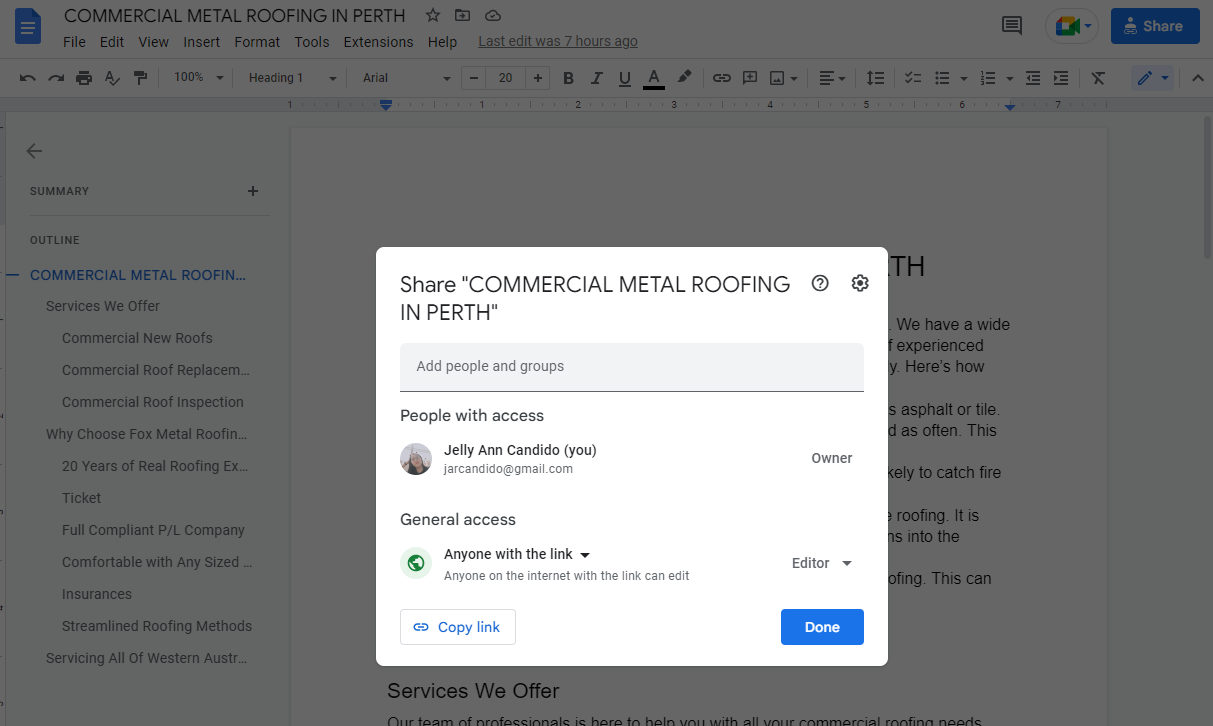 Step 4: Go back to WordPress, look at your left side bar and click EmbedPress > Shortcode.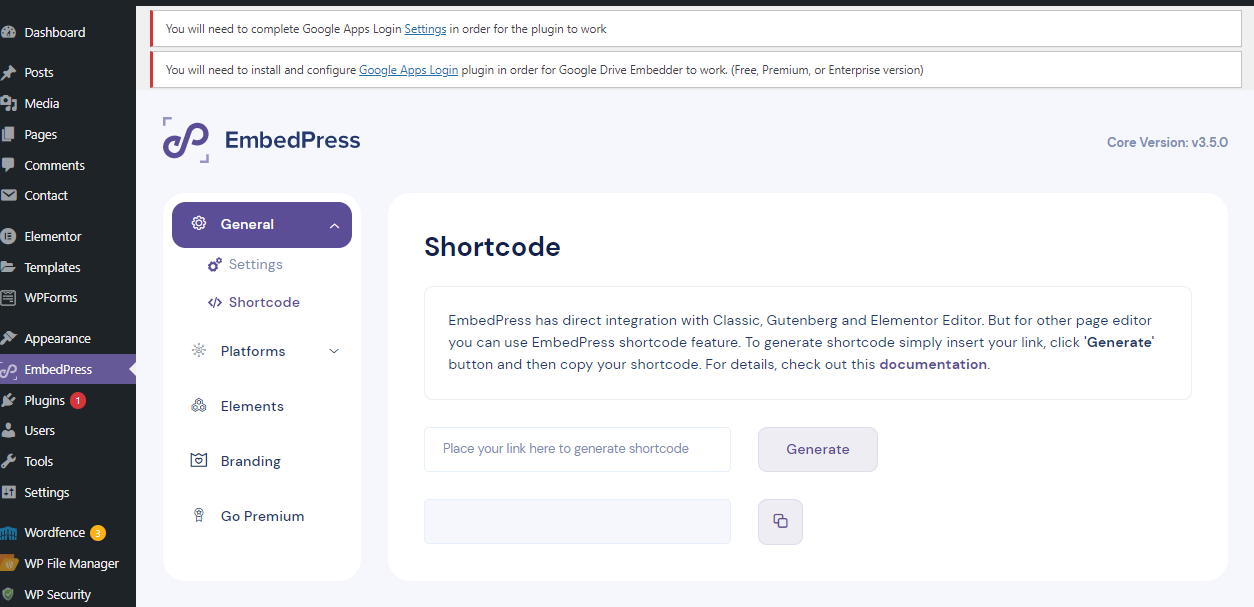 Step 5: EmbedPress has direct integration with Classic, Gutenberg and Elementor Editor. But for other page editors you can use the EmbedPress shortcode feature. To generate a shortcode simply insert your link, click 'Generate' button and then copy your shortcode.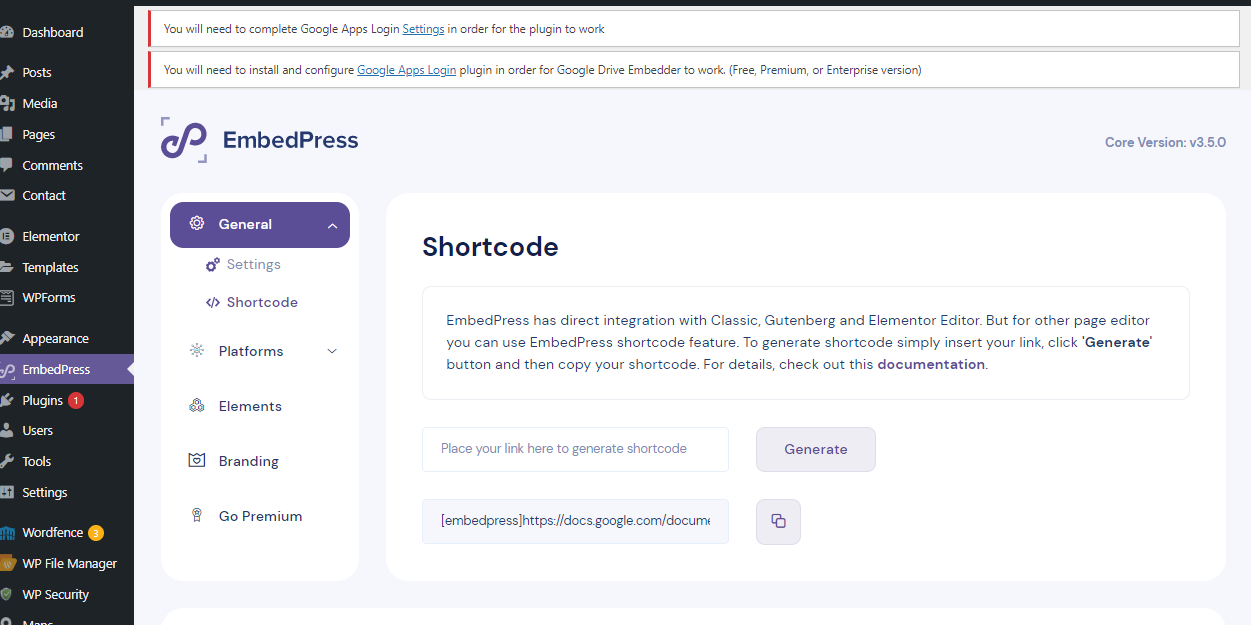 Step 6: In the text editor field, paste the shortcode and click "Publish".
Using DocPress to Post Directly to WordPress
If you're looking for a more seamless way to post your Google Docs content to a WordPress site, then you might want to check out DocPress. This Google Docs add-on allows you to post content made in Google Docs to your WordPress site.
Rather than using the traditional WordPress editor, you'll be working directly in Google Docs.
Step 1: Simply create your content like you normally would on Google Docs.
Step 2: Install DocPress and on the Main toolbar, click Extensions > DocPress.it > Export

Step 3: On the right sidebar, click "Export" .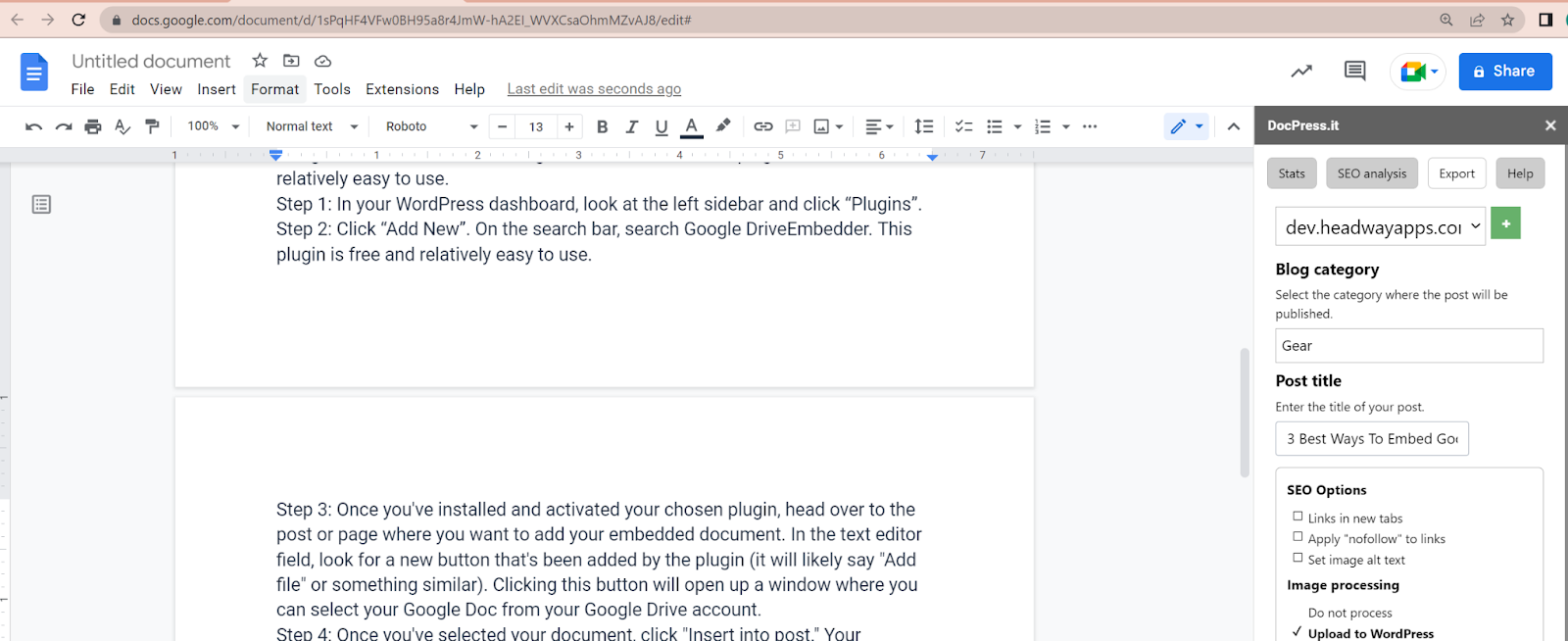 Step 4: Select the options you want and click export: SEO links options, image processing, post status, preview.
Step 5: After clicking the export button it may take a few seconds to process your article depending on how large the article is and how many images you have in the article. Once the article is exported you will see the confirmation screen with the preview link. Please make sure you are logged in to your WP site to preview the article, otherwise you will get an error.
If you want to make changes to a document you can export again and it will be automatically reflected on your website — no need to manually embed anything.
Key Takeaway
In this article, we've covered the best ways to embed Google docs in WordPress. You can manually add HTML code to your post or page, but this can be time-consuming and frustrating. We also discussed using a plugin or using DocPress to post directly on WordPress, which is the best option for most people. There are other ways to embed Google docs in WordPress, but these three methods are the most popular and effective ways.
—
About DocPress.it
If you're looking for a way to make your blogger life easier, then you should definitely consider using DocPress. It's a Google Docs add-on that allows you to automatically export Google Docs to WordPress posts. All you have to do is install the add-on and connect it to your WordPress site. Then, whenever you create or edit a document using Google Docs, it will be automatically synced with your WordPress site. This means that you won't have to worry about manually embedding each document. Plus, all of your formatting and styles will be preserved. And if that wasn't enough, DocPress also offers content SEO analysis and image importation. So what are you waiting for? Give it a try today!
Get Our Latest Articles
Subscribe to our newsletter below to get amazing new articles, promos but also tips and tricks.
[ad_2]

Source link